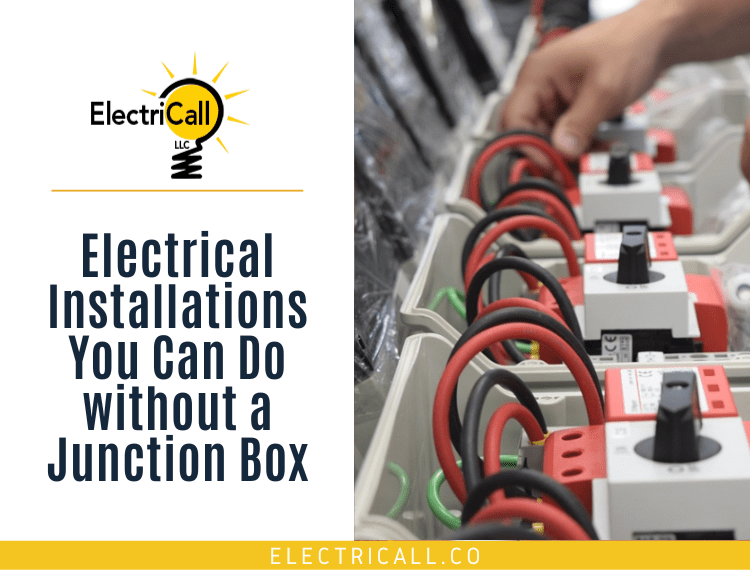 Electrical Installations You Can Do without a Junction Box
Generally, electrical installations require a junction box to hold electrical wiring connections. Ceiling fans, for example, are generally required to have an electrical box. But there are instances where a traditional junction box is not needed.
In this guide, we hope to offer information you need to know about electrical boxes. We define what a junction box is, its benefits, and when it is not necessary. And we share a list of home equipment you can install without worrying about an electrical box.
Junction Box Defined
A junction box is a type of electrical box. It is a safety measure in the form of an electrical enclosure. The junction box is usually a standard square or round type. Its inside is spacious enough to hold multiple electrical wires.
A junction box has many functions:
It is essential to secure electrical wiring. The electrical enclosure will help prevent the wires from getting loose or damaged.
A junction box is crucial wherever wires are spliced together. Keeping the wires inside an enclosure helps maintain a reliable connection.
Increase safety at home by avoiding accidental contact. Electrical terminals or live wires can cause injuries, so it is important to not let them be exposed.
Surround the spot where electrical wires are connected. The enclosure is an effective way to avoid contact between wires and causing a spark.
It is a requirement under NEC to have a junction box. It is essential for home equipment that requires a dedicated enclosure. For example, electrical systems that are above 600 volts need a proper electrical box. And the installation method must follow the NEC specifications.
No Need for a Junction Box for These Home Devices
You need a junction to make electrical installations easier and safer to do. But there are electrical installations that do not need a junction box. Some electrical devices that can be installed at home without an electrical box include:
Wall-mounted heaters. These are heating units that are used for smaller, compact spaces.
Baseboard heaters. These are a type of zone heating that are cheaper and easier to install.
Bathroom vent fans. These are small exhaust systems to help get rid of odor and humidity from the bathroom. They are often wired to the existing light switch.
Garbage disposal. These can be installed with a dedicated electrical box, or wired with a GFCI outlet.
Recessed light. These are unobstrusive, but elegant kinds of lighting for the home. They usually have their own wiring enclosure. And this can be installed using existing wires.
Tube-style light fixture. This type is designed as better, energy-efficient lighting. This can also be installed using existing electrical wirings.
These home fixtures and systems do not need a junction box. Primarily because they usually have their own complete housing. That means, all their wirings are contained in one secure compartment. Also, low-voltage wiring or power below 100 watts typically does not need a junction box.
Do Electrical Installations Always Require a Junction Box?
Not all electrical installations require a junction box. So you do not have to worry about keeping your home safe. You will pass electrical inspections even without dedicated electrical boxes for some devices.
With careful planning of the home's circuitry, you can minimize the use of junction boxes. A planned home wiring will help make branching out of electrical wires from an outlet or switch easier and safer.
Are you concerned about the number of junction boxes in your home? Wondering when a junction box may not be necessary? Here is what you should remember:
You do not need a junction box when installing residential circuitry does not involve splicing wires together.
Your home will remain safe even without a junction box if all electrical connections are secured. That means the wires are not loose and hard to reach, especially by kids and pets.
No need for junction boxes for equipment that comes with its own enclosures.
A junction box is not always necessary if the electrical wires are tucked away. That means the wires are in a conduit and behind the drywall or not exposed.
Often, junction boxes are needed when installing high-voltage home devices. Household equipment that has higher voltage requires a dedicated electrical enclosure. It is also exceptionally crucial when splicing electrical wires to reach their destination.
A rule of thumb when and an electrical safety tip: when in doubt, call the professionals. Consult with a local Arvada electrician. Hire expert electricians who are experienced in electrical installations and repairs.
Do Not Let Your Electrical Worries Stop You from Having the Best Home
Are you still looking for a "residential electrician near me?" or an expert electrician in Arvada?
If you need more clarity on what a junction box is, our Arvada electricians are here to help. ElectriCall has a team of residential electricians ready to answer your questions. We are experts in electrical repairs, electrical maintenance, installations, and more! As your local electricians, we are ready and willing to assist you in doing electrical work.